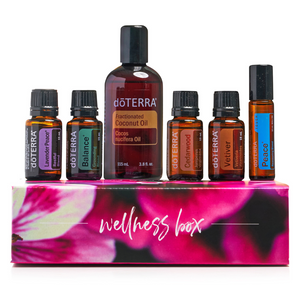 Bedtime Bliss Wellness Box
$18346

$183.46

Save $45.87
---
---
Description
Satisfy your craving for a restful night's sleep with these products to support your wind-down routine!
We all crave that feeling of a restful night's sleep – sometimes, we just need a little help to get there. Stylishly packaged in a compact, pink box we've combined products to support your night time wind down. Rest, rejuvenate, and take on the world!
The Bedtime Bliss Bundle includes:
*Includes a useful instruction card to help you get started!
Wholesale Account
You can purchase your doTERRA Essential oils at full retail price direct from here (bearing in mind we only have limited stock), but we think the best way is to set up your own wholesale account.

We would love for you to become a part of our Oily Tribe and purchase your oils at wholesale price. This will save you 25%.  You do NOT need to place an order every month or on-sell to friends or family, you simply get to save 25%. There really are no hidden clauses (which is another reason we love the company).