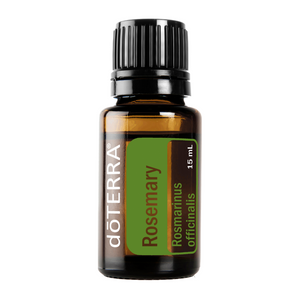 Rosemary Essential Oil
Description
Rosemary is an aromatic, evergreen shrub whose leaves are frequently used to flavour foods such as stuffings, pork, roast lamb, chicken, and turkey. Along with its culinary applications, Rosemary has many benefits. Long revered by experts, Rosemary was considered sacred by the ancient Greek, Roman, Egyptian, and Hebrew cultures. Rosemary's herbaceous and uplifting scent is frequently used in aromatherapy.

Primary Benefits
➕ Uplifting to the senses with a rejuvenating scent.
➕ Provides flavour to foods such as stuffings, meat and poultry.
Aromatic Description
Camphoraceous, herbaceous

Collection Method
Steam distillation
Plant Part
Flower/leaf
Main Constituents
Eucalyptol, α-pinene, camphor

Uses
➕ Diffuse while studying to create an uplifting atmosphere. Blends well with Lemon, Cypress, Geranium, Basil and Eucalyptus essential oils.
➕ Add 1-2 drops of Rosemary essential oil to flavour roast meats and/or vegetables.

Diffusion:

 
Use three to four drops in the diffuser of your choice.
Food flavour use: Add 1 or 2 drops to food.
Cautions
Keep out of reach of children. Avoid contact with eyes, inner ears, and sensitive areas. If you are pregnant, nursing, or under a doctor's care, consult your physician. Possible skin sensitivity.
Wholesale Account
You can purchase your doTERRA Essential oils at full retail price direct from here (bearing in mind we only have limited stock), but we think the best way is to set up your own wholesale account.

We would love for you to become a part of our Oily Tribe and purchase your oils at wholesale price. This will save you 25%.  You do NOT need to place an order every month or on-sell to friends or family, you simply get to save 25%. There really are no hidden clauses (which is another reason we love the company).