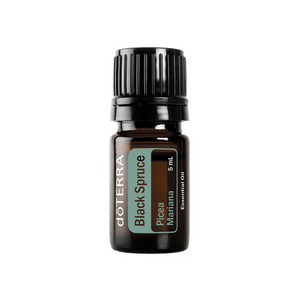 Black Spruce Essential Oil
Description
Historically used by Native Americans for topical and spiritual practices, Black Spruce is a powerful wood essential oil. Distilled from the needles and branches of the Picea mariana tree, Black Spruce essential oil is high in bornyl acetate, a chemical component known for relaxation and calming properties.
Start your day off with Black Spruce, used either topically and aromatically. After strenuous exercise, try massaging Black Spruce into the skin with a carrier oil as part of a soothing and comforting massage. Diffuse Black Spruce or apply to the back of the neck throughout the day whenever you are searching for harmony and balance. Black Spruce essential oil is often used in aromatherapy for its invigorating, refreshing and clear aroma.
Primary Benefits
➕ May provide soothing benefits to the skin.
➕ Relaxing and calming aroma.

➕ Refreshing 
and clear aroma.
Aromatic Description
Balsamic, green, fruity, woody

Collection Method
Steam distillation
Plant Part
Branch/Leaf
Main Constituents
Bornyl acetate, a-pinene, camphene, δ-3-carene

Uses
➕ After strenuous activity, combine 1 to 2 drops of Black Spruce with Fractionated Coconut Oil and massage into the skin.
➕ When working through difficult circumstances, try diffusing Black Spruce.
➕ Inhale throughout the day to experience the refreshing, clear aroma.
Diffusion: Use three to four drops in the diffuser of choice.
Topical: Apply one to two drops to desired area. Dilute with a carrier oil to minimise any skin sensitivity. See additional precautions below.
Cautions
Keep out of reach of children. Avoid contact with eyes, inner ears, and sensitive areas. If you are pregnant, nursing, or under a doctor's care, consult your physician. Possible skin sensitivity.
Wholesale Account
You can purchase your doTERRA Essential oils at full retail price direct from here (bearing in mind we only have limited stock), but we think the best way is to set up your own wholesale account.

We would love for you to become a part of our Oily Tribe and purchase your oils at wholesale price. This will save you 25%.  You do NOT need to place an order every month or on-sell to friends or family, you simply get to save 25%. There really are no hidden clauses (which is another reason we love the company).