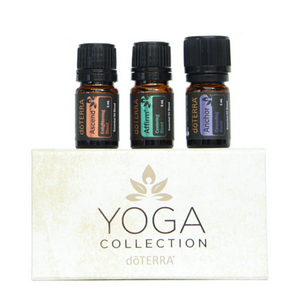 Yoga Collection Kit
Description
An exclusive trio of CPTG® essential oil blends designed by doTERRA for the yogi in you. Three oils that are the perfect blends to enhance your life and yoga practice. These blends provide aromas to steady, center, and enlighten your spirit through every breath while strengthening and stretching your body.  The three oil blends in this collection include:
Wholesale Account
You can purchase your doTERRA Essential oils at full retail price direct from here (bearing in mind we only have limited stock), but we think the best way is to set up your own wholesale account. 

We would love for you to become a part of our Oily Tribe and purchase your oils at wholesale price. This will save you 25%.  You do NOT need to place an order every month or on-sell to friends or family, you simply get to save 25%. There really are no hidden clauses (which is another reason we love the company).