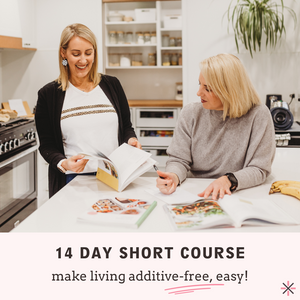 Additive-Free Short Course - We Start 21 August!
Description
14 DAYS TO UNLOCK YOUR POTENTIAL!
Throughout this challenge, you will:
✨ Transform your pantry
✨ Master the art of ingredient reading
✨ Gain clarity on food labelling
✨ Uncover the truth behind marketing tactics
✨ Cultivate new, healthy habits
✨ Enhance your freezer's stock
✨ Embrace cooking from scratch
✨ Deepen your knowledge of additives and preservatives
✨ Improve your eating habits
✨ Ignite the beginning of your healthier lifestyle 🙌🏻
You will also enjoy:
⚡️ Live cook-along
Participate in a LIVE session (with replay available) featuring Jo & Tracey! Cook alongside us through the web as we prepare additive-free lunchbox foods to stock your freezer. Additionally, gain valuable insights into additives and preservatives during the session
⚡️Reset your pantry
Discover the power of simple swaps and initiate a pantry reset by incorporating additive-free foods that the entire family will enjoy. We will guide you through this step-by-step, effortless process.
⚡️Get organised
Embrace the challenge of meal planning and staying committed to it. This practice will not only save you time and money but also eliminate the inconvenience of deciding "what to cook?" on a daily basis.

⚡️Access us!
Gain exclusive access to Tracey and Jo through our open Facebook group, where we will be available to you on a daily basis. Additionally, we are hosting two LIVE Q&A sessions in the evenings, ensuring convenience for all participants. Feel free to ask us anything and make the most out of this program!

How does it work?
💻  Daily emails to keep you accountable
Having access to the internet allows you to fully participate in and complete the challenge. Just make it a habit to check your emails each morning for the daily content. However, there's no need to fret if you happen to fall behind, as you can save the emails indefinitely!
⏰
Participate when it suits you
Once you learn something you can't unlearn it, it becomes a permanent part of you. Despite this being a challenge, you have the freedom to progress at your own pace. Adopting a healthier lifestyle is not a competition; it involves gradually making simple substitutions, which takes time. This challenge serves as a reset, a catalyst, and a stepping stone to guide you in the right direction.
😇 Community and support
By joining our free Facebook group, you'll become part of a vibrant community where everyone is on the same journey. Together, we will engage, enjoy ourselves, seek answers to our questions, and provide assistance to one another. This supportive and like-minded community will help you stay focused, and whenever you need it, we will uplift and support you.
WE START 21 AUGUST!