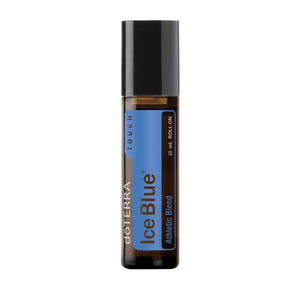 Ice Blue Touch Essential Oil Blend
Description
Packaged in a convenient roll-on, Ice Blue Touch can be used as a soothing massage. Try rubbing Ice Blue Touch on your hands, wrists, shoulders, and neck after exercising, lifting, or working long hours. Experience the cooling and refreshing sensation of doTERRA Ice Blue Touch.
Directions for Use
Topical use:
Apply to desired area. See additional precautions below.
Uses
Massage Ice Blue Touch onto legs before bedtime.
Apply on feet and knees before and after exercise.
Rub Ice Blue Touch on lower back muscles after a day of heavy lifting at work or during a move.
Primary Benefits
Soothing and cooling to the skin.
Comforting part of a massage.
Ingredients
Fractionated Coconut Oil, Wintergreen Leaf, Camphor Bark, Peppermint Plant, Ylang Ylang Flower, Helichrysum Flower, Blue Tansy Flower, Blue Chamomile Flower, and Osmanthus Flower.
Cautions
Keep out of reach of children. Avoid contact with eyes, inner ears, and sensitive areas. If you are pregnant, nursing, or under a doctor's care, consult your physician. Possible skin sensitivity.

Wholesale Account
You can purchase your doTERRA Essential oils at full retail price direct from here (bearing in mind we only have limited stock), but we think the best way is to set up your own wholesale account.

We would love for you to become a part of our Oily Tribe and purchase your oils at wholesale price. This will save you 25%.  You do NOT need to place an order every month or on-sell to friends or family, you simply get to save 25%. There really are no hidden clauses (which is another reason we love the company).