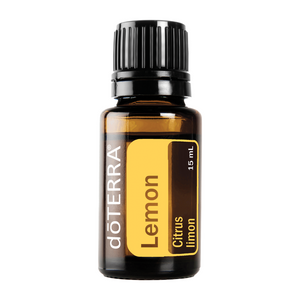 Lemon Essential Oil
Description
This top-selling doTERRA essential oil, Lemon has multiple benefits and uses. With a clean refreshing, crisp uplifting aroma to help brighten the day.
When added to water, Lemon provides a refreshing citrus flavour boost. Lemon is frequently added to food to enhance the flavour of desserts and main dishes.
When diffused, Lemon essential oil has a very uplifting and energising aroma, ideal when searching for feelings of lightness, cheer, and joy.
Primary Benefit | Refresh and uplift. Add one or two drops of Lemon Essential Oil to water to create a refreshing and citrusy boost you can reach for throughout the day. A great tip to help reduce snack cravings.
Secondary Benefit | Invigorate your senses with the fresh and cleansing aroma of Lemon Essential Oil. Diffuse Lemon to create a focused environment and help revive and elevate lagging spirits.
Tertiary Benefit | Lemon Essential Oil, with its fresh and clean scent, can be incorporated into your daily household cleaning routine and used throughout the home.
Aromatic Description
Clean, fresh, citrus, bright

Collection Method
Cold pressed/expressed
Plant Part
Lemon rinds (peel)
Main Constituents
Limonene, ß pinenes, γ-terpimene
Uses
➕ Add a drop to water for a citrus burst of flavour.
➕ Add Lemon essential oil to a spray bottle of water to clean tables, counter tops, and other surfaces.
➕ Lemon also makes a great furniture polish; simply add a few drops to olive oil to clean, protect, and shine wood finishes.
➕ Add a drop to water for a citrus burst of flavour.
➕ Use a cloth soaked in Lemon essential oil oil to preserve and protect your leather furniture and other leather surfaces or garments.
➕ Add one or two drops to recipes that call for a citrus flavour.
➕ Diffuse to create an uplifting environment.
Diffusion: Use three to four drops in a diffuser of your choice. 
Food Flavour:

 
Dilute one drop in 120 ml of liquid.
Cleaning use: Add five to ten drops to a 250 ml spray bottle of water (and shake vigorously) to clean tables, countertops, and other surfaces. 
Product Details
One of our most popular items, Lemon Essential Oil is like liquid sunshine, filled with vitality and bursting with a citrusy aroma and flavour. Lemon Essential Oil has many applications. Its crisp and uplifting scent can be added to your surface cleanser, or you can add a couple of drops to your drinking water to create a delicate and citrusy flavour.

Cautions
Keep out of reach of children. Avoid contact with eyes, inner ears, and sensitive areas. If you are pregnant, nursing, or under a doctor's care, consult your physician. Possible skin sensitivity.
Wholesale Account
You can purchase your doTERRA Essential oils at full retail price direct from here (bearing in mind we only have limited stock), but we think the best way is to set up your own wholesale account.

We would love for you to become a part of our Oily Tribe and purchase your oils at wholesale price. This will save you 25%.  You do NOT need to place an order every month or on-sell to friends or family, you simply get to save 25%. There really are no hidden clauses (which is another reason we love the company).